Sowing the Seed,
Reaping the Harvest
---
Jesus said, "The harvest truly is plentiful, but the laborers are few. 38Therefore pray the Lord of the harvest to send out laborers into His harvest"(Matthew 9:37,38).
This is still true all over the world, and is vital here in Papua New Guinea. Since the number of "foreign missionaries" is so limited in much of the world, the Lord has been impressing upon my mind to produce, train, equip, and prepare 100 new educational missionaries right here in PNG.
The Lord Jesus Christ, right before His ascension into heaven, commanded His disciples to go into all nations, preaching, making disciples, and TEACHING all that He had taught (Matthew 28:19, 20). The fact that we have allowed the world to teach the Church has been devastating for the church and the souls of mankind in Papua New Guinea, and around the World.
Since our January newsletter, we have been involved in several major projects, and we'll highlight some of the details here. In mid-January, we had a bus trip up the "Highlands Highways" to a place named Popikola, west of Mt. Hagen. A trip on this so-called Highway is always an adventure, crowded into 25-seat buses, winding their way around massive potholes, almost every mile of the five or six hour trip. There are always pedestrians in close proximity to the swerving buses, which are often headed directly at the on-coming traffic. On this trip we encountered some guys claiming they were fixing the road and demanding money. They wanted K20 (kina), but I think they finally settled for about K16. After we arrived in Mt. Hagen, we all got caught in the rain while waiting for our next ride, about additional 50 minutes to Popikola which is near the Pabarabuk mission station. Continued below pictures.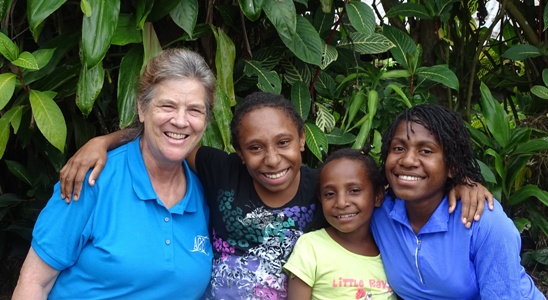 Grandma Crystal Dawn
This is Crystal with a couple of our faithful helpers, both on the trip to The Men's Retreat, and at home in Goroka. Next to Crystal is Cuistan Umba, her sister Grace, and Hellena Oscar, on the right.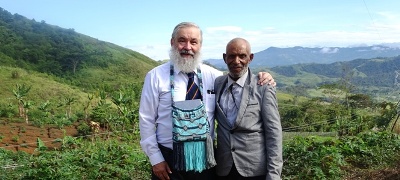 Faithful Servant
I don't remember this old fellow's name, but as a boy, he actually knew G. T. Bustin, the founder of Evangelical Bible Mission, and one of the first missionaries in this part of the Highlands of New Guinea, in 1948.
Another
Crystal Dawn
This is our beautiful granddaughter, Crystal Dawn Siminji, daughter of Ken and Hannah Siminji. They live in Port Moresby, Papua New Guinea.
There, Crystal and I, and others, participated in a "Men's Retreat," which was sponsored by Evangelical Bible Mission, and also well-attended by women and children. I preached five times in the four-day retreat, putting much emphasis on a biblical concept of home, family, marriage, and to see all of life from God's point of view. Our "granddaughter" Hellena took a lot of pictures and videos, which we have been sharing on Facebook sometimes.
I told the people that Americans already have Coca-Cola and PepsiCola, and if they had a new soft drink (pop) called Popi-kola it would be a big hit!
After returning to Goroka, it was time to get ready for our Educational Leadership Training. It was scheduled for one week, but I had many other things to share with the class, so we went into the second week. Several people came later, beginning in the second week, so I had to continue through a third week to get them through the extensive material, including ACE procedures, the Five Laws of Learning, a Biblical Philosophy of Education, Christian Worldview, introduction of John Maxwell's "21 Irrefutable Laws of Leadership", and many "mini-classes" to give the trainees a foundation for effective educational leadership.
Three of the ladies attending the first two weeks had been our students at Goroka Christian Academy, 10- 20 years ago, so it was a real blessing to have some of my former students with us again. One girl, Sophie Esikel, went all the way through school on the ACE program, and we have known her for 24 years. During the training the Lord began to lead her to take the "administrator" position of Eagles' Wings Christian Academy, a school Crystal and I, along with Lydia Joseph, started in 2006.
So for our remaining time here this year, we are concentrating on helping inspire and motivate the local church, the first steps of rebuilding some "missionary infrastructure," and helping equip "Miss Sophie" to breathe fresh life into EWCA. 
Please take a few minutes to read the sidebar entitled"The Joy of Giving."
We urge you to remember to keep us and our work in your prayers. We know that without Him, we can do nothing, but our daily observations also show that He is blessing our labors. Your prayers and support are building the Kingdom of God.
Thank you so much. The work of God needs your input around the World. "The grace of the Lord Jesus Christ be with you all."
David and Crystal Hersman
Contact Us
---
David and Crystal Hersman
Eagles' Wings Ministries
1458 Henson Road
Clintonville, West Virginia 24931-7158
Phone: (304) 392-2035
Cell-Text: (304) 661-2534
Email: David@EaglesWings.net
The JOY of Giving
Usually most preachers and missionaries are reluctant to say very much about finances, because they don't want to be accused of "just being after money." Ironically, the ones who are teaching a false doctrine of "wealth, health, and prosperity" beyond what the Bible teaches, and are appealing to the sinful, covetous nature of people, are often very successful in their deception, reaping great wealth for themselves.
But for every pastor, evangelist, singer, or missionary like that, there are probably thousands of faithful, sacrificial servants of God laboring year after year in conditions of continuous financial challenges, giving perpetually of themselves to reach the souls, minds, and hearts of the lost or untrained.
J. Hudson Taylor is attributed with the quote, "God's work, done in God's way, will never lack God's supply." While I believe this to be basically true, it was spoken in a culture that passed away more than a century ago. Today, there is such an emphasis on secular achievement and material things that the percentage of people with a biblical view of giving has declined dramatically. The world of missionary work needs YOUR support. Now! And continuously!
God's Word teaches that we are ALL supposed to minister in "temporal things" to those who minister to us in Spiritual things (1 Corinthians 9:11, others) . And that we are ALL commanded to give to the support of those who are spreading God's Word around the world (Romans 10:15).
Since these mandates are Scriptural, I plan to share more about what the Bible says along this line, and how it affects the harvest of souls in the world today. I will share a bite-sized challenge in our coming newsletters. Most of us think very little of the expenditure of $8 - $10 for a fast food meal, yet if challenged to give to missions, thousands tend to think they have nothing to give. Our work, and many others, could use your help, right now! The price of a meal could help pay for a few days of electricity, a tool needed for maintenance, a new wash pan or cooking pan, bucket, or butter knives, a trip to the vegetable market, part of a month of Internet service, a piece of second-hand clothing, medicine, or personal hygiene items for a missionary, or someone with whom he shares. Start growing your JOY! Start sharing more to day!
* * * * * * *
For this missionary trip to "break even," we still need $1500- $2000 or so. We need support for the projects mentioned in the main part of our letter, and for the on-going projects which lie ahead.
You may give immediately through PayPal using the DONATE button below, through Facebook, or by mailing to our West Virginia address. We deeply appreciate all you do to help us spread the Word, and reach the lost.