Updated: March 17, 2023
Welcome to Eagles' Wings!
Here you'll find TONS OF FREE INFORMATION ON LEARNING TO FLY. You don't have to sign up, or sign in, just explore the many buttons at the top of the page! No pressure! No pop-ups! Just the information you need. Welcome to the Wonderful World of Flying!
IN MAY I FINISHED MY 38th Year as a FLIGHT INSTRUCTOR, and this Website has been on the Internet for 25 YEARS!
A quarter of a century is pretty long by Internet standards.
We were in Papua New Guinea in 1997 when I became aware that it would be possible to have a continuous presence on the Internet, accessible from anywhere in the world. I obtained this domain name, and began learning the basics of Web design. Much of it was very basic back then, but I soon had this aviation and missionary-based web site active, and set up the email addresses we still use today. About that time we began sending and receiving email, cutting our communicate time from weeks to minutes.
What about Drones
Unmanned Aircraft Systems (UAS), commonly called "drones," are here to stay. They are the safest and most efficient way to do many things, and new uses are likely to be discovered all the time. Also, they are FUN to fly. However, there are laws concerning drones, and their safe use in the National Airspace System. Be sure your know what is safe and legal BEFORE you fly your drone. A Part 107 License is required for any activity and could be used as a profit-making enterprise, so I recommend getting that license. I am a Part 107 licensee, and would be glad to help others learn from what I've learned so far. Also, you can find some videos about this on our YouTube channel. Our YouTube Channel Portal More drone news will now be included in our aviation material.
FREE Drone Primer
Drone Primer PDF Here is a link to a pdf file with four pages regarding getting started with your first drone. Fact is, you can run into some complications and frustrations, but they can be overcome. Many of the problems can be eliminated from the start, with a little knowledge of what to expect, and what to do. This is focused on getting up and flying safely and efficeintly. Answers many questions beginners wonder about.
West Virginia Photo Pilot - CLICK HERE
OUR YOUTUBE CHANNEL:
Crystal and I have been adding some new content to our YouTube Channel. We have quite a varirty of content, some aviation, Christian music, missionary activities, and product reviews. Earlier this year we presented a series of 10 videos entitled "Seven Way God has Revealed Himself to Us," followed by shorter series focused on basic Bible doctrines, Christian beliefs, and the mission of the Church in the 21st Century. Below are links to some aviation content, as well as a sample of our ministry content.
REVIEW and Instructions for Garmin GTR 225 aviation communication radio.
Morning Flight to Beckley
Weather Resources Lesson
Lesson 4 in a series, How God has Revealed Himself to Us.
Our YouTube Channel Portal
New Flight Students: We have new flight students starting almost all the time. Flying sort of slows down in the coldest months of winter, but that really doesn't last long. In the meantime you can be doing certain things to enhance your learning experience later. Flying is partly KNOWLEDGE, so you can be working on acquiring the knowledge needed to become a pilot, and utilize the privileges of your license. This web site is a good place to get started. The second row of pictures below is of some recent solo students, and below that a few others who have started flying in recent months. Often I am asked, "How do I start?" It may be simpler than you think. First click on the button that says "Getting Started." After reading that information, call, text, or email me. We can actually have you flying an airplane in the very near future!
We expect our trainees and associates to use common sense, reasonabe precautions, and good hygeine practices regarding the Covid-19 threat.
SPECIAL NOTICE: I have produced an html page of our recent Missionary Newsletters which is uploaded to our server, and should be visible. The new format is more readible, and includes several recent photos. At the top of the page, there is a link to go to the previous newsletter. I believe these will be a blessing and inspiration to you.
Welcome to the wonderful world of flying! My name is David Hersman. I learned to fly right here in the Greenbrier Valley of West Virginia, soloed in 1977 at Greenbrier Valley Airport. Since 1984, I have given over 5900 hours of instruction. I have had the privilege of training young people who soloed on their 16th birthday, as well as older folks who just wanted to fulfill a life-long dream. I hope I will soon be sharing the sky with you! This web site is designed to help provide you with a lot of free information about flying, inform you about how FUN it is, and inspire you to get started. You'll love flying!
We have been married over 50 years. Although we were first doing inter-city work in Cincinnati, since 1971, we have been involved in educational mission work in West Virginia, and have spent about 8 of those years in Papua New Guinea as missionaries. We still spend time there doing Educational Leadership Training, and helping to encourage and strenghten the churches.
This work usually takes place when it is winter here in the United States, and the weather is not very suitable for flying. The prayers and support of God's people make this ministry possible and fruitful.

Because of the travel restrictions associated with the Coronavirus threat, we do not plan to go to Papua New Guinea this winter (2022-23).

The picture here was taken on our 51st Anniversary, October 4, 2020. We were visiting our son in Canton, Ohio.
David H. Hersman,
Certified Flight Instructor
1458 Henson Road
Clintonville, West Virginia 24931-7158
Phone: (304) 392-2035
Cell - Text: (304) 445-6046, or alternately (304) 661-2534
Email: David@EaglesWings.net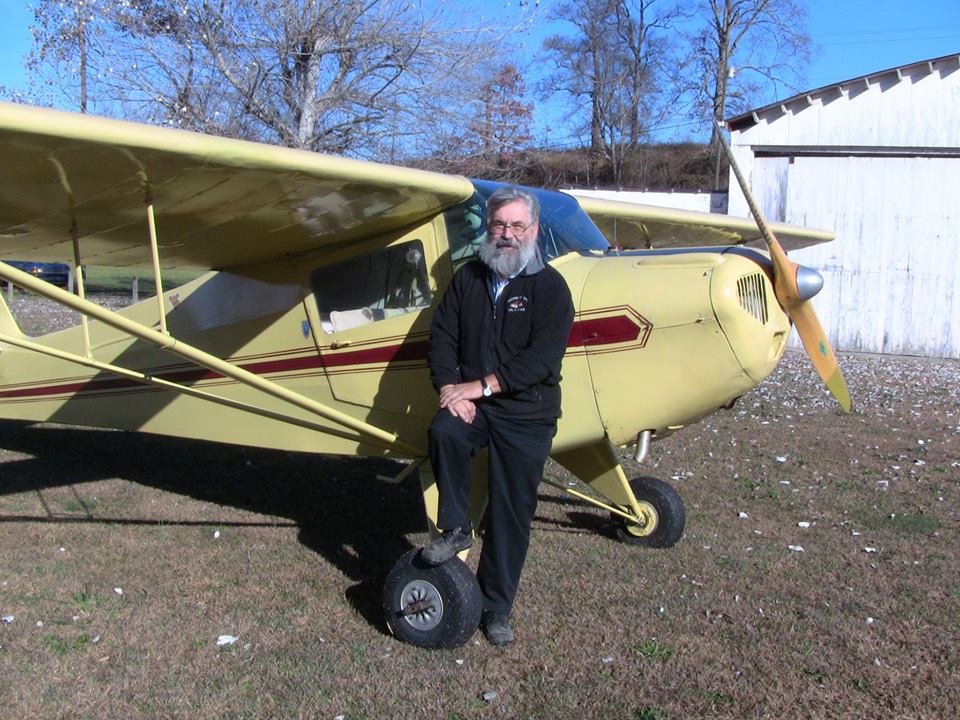 Here I am at Hinton-Alderson Airport, Pence Springs, West Virginia, several years ago, with a 1941 Taylorcraft in which I was giving the owner instruction at that time. Some of these older airplanes, as well as many new ones, are in the "light sport category," and under some circustances can be flown with less training, and without FAA medical certification.